RIP Steve Irwin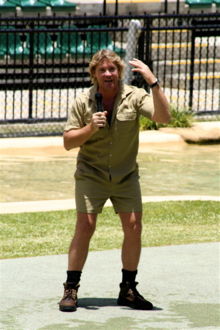 Steve Irwin
1962 – 2006
Just a very quick Blog entry to express my sadness at the passing of Steve "Crocodile Hunter" Irwin, who was killed today by a Stingray whilst filming off the coast of Australia.
Steve Irwin was a great man and did a lot for wildlife conservation around the world and helped bring everything "Mainstream". His passion for the animals he was filming was evident to see and he was truly unique. Steve may be gone but I hope his conservation message lives on.
I don't know if there is a Steve Irwin fund set up yet but if I here any news I will make sure that I post it here on the blog. I'm sure I won't be the only one willing to donate something to such a good cause, let's keep the conservation going!
RIP STEVE
Receive Free Email Updates When A New Entry Is Posted. Join Them!
Comments
2 Responses to "RIP Steve Irwin"
Speak Your Mind
Please do feel free to leave a comment, I read them all...

and oh, I'm sure you don't look like a monster, so why not go get a free gravatar so a pic can be displayed with your comment!